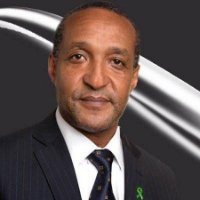 Macharia Kamau
Kenya's Ambassador and Permanent Representative
United Nations, New York
Macharia Kamau is a diplomat, a development and humanitarian expert and a social and environmental advocate with extensive experience as a political and strategic advisor. He is currently Kenya's Ambassador and Permanent Representative to the United Nations, New York. He also served as the Special Envoy of the Secretary General of the United Nations on El Niño and Climate and President of the General Assembly's Special Envoy to El Nino and Climate.

Ambassador Macharia Kamau was instrumental in developing the Sustainable Development Goals and the 2030 Agenda for Sustainable Development as Co-Chair and Co-Facilitator respectively. He also sat as Chair of the Peacebuilding Commission, President of the UNICEF Board, President of Convention of State Parties of People Living with Disabilities and President of the United Nations Forest Forum, among other responsibilities.

He is the recipient of the Elizabeth Haub Award, Gold Medal, for Environmental Diplomacy 2014, and was awarded the Moran of the Burning Spear by the Government of Kenya in 2012.
Ambassador Kamau is Harvard University Graduate School of Education, EdM, Administration and Social Policy - 1982 – 1983