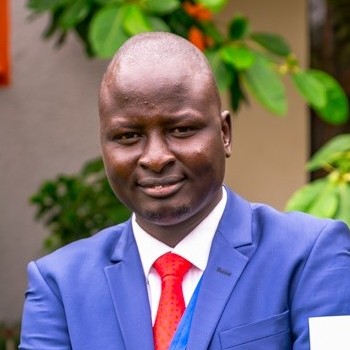 Elijah Manyok Jok
Founder and Executive Director
Smile Again Africa Development Organization (SAADO)
Elijah Manyok is South Sudanese humanitarian and development practitioner, He was born and raised as an IDP and Refugee respectively during Sudan's longest civil ( 1983 – 2005) in 2005 the Compressive Peace Agreement that led to the Independence of South Sudan in 2011 was signed. In 2008 Elijah return home start new life.
He is the founder and Executive Director of Smile Again Africa Development Organization- SAADO.
SAADO is a national non- profit humanitarian and development organization dedicated to working with the youth and their communities to reach their full
Potential. Founded in 2011, SAADO works across all the states of South Sudan promoting social cohesion and empowering communities to tackle the causes of poverty and injustices. SAADO provide humanitarian assistance to families affected by disaster & conflict while partnering with communities for long – term solutions to alleviate poverty. Motivated by the potential in the youth, they optimize their role to foster peaceful co-existence and economic empowerment in south Sudan.
Through his leadership and innovation SAADO is the leading National humanitarian and development Organization in South Sudan , reaching over a million people per year with lives saving emergency respond and resilience building for sustainable future. SAADO won 2017 South Sudan NGO forum award on " Most Innovative State-Society Building Initiatives".
SAADO is the only National NGO in South Sudan who is a signatory for the ICRC code of conducts for NGOs in disaster relief as well as the only National NGO member of Communicate with Disaster Affected Communities (CDAC) Network at global level.
Prior to SAADO, Elijah worked for various Agencies including United Nations World Food Program ( WFP), Save the children, Catholic Relief Services and FEWSNET at different capacities.
Elijah is described by his friends and colleagues as a visionary leader, critical thinker with high interpersonal and communication skills, a go getter and pragmatic.
Elijah Holds 2 Masters Degree from University of Salford (MSc Project Management) and University of Cumbria (MBA) both in United Kingdom. He is Pursuing PhD – International Development ( University of Birmingham- UK).