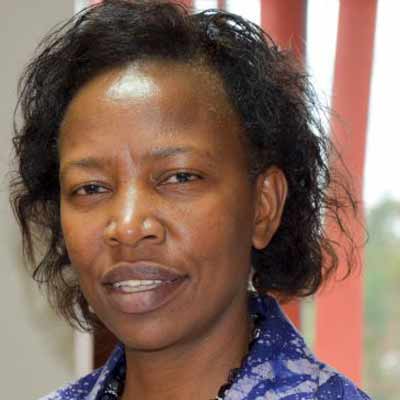 Janet Mawiyoo
Kenya Community Development Foundation
Janet Naumi Mawiyoo (Ms.) is the Chief Executive Officer of KCDF (Kenya Community Development Foundation), an organization that promotes sustainable development of communities for social justice, through local institution building, policy influencing, resource mobilization, partnerships and collaborations. Janet has been in the development sector, primarily with the nonprofit sector for over 30 years, having spent about 14 years with Action Aid International in both Kenya and Tanzania. Janet has distinguished herself as a skilled development practitioner, very knowledgeable on the challenges experienced in Africa and the management and delivery of good aid programmes, as well as institution building of local organizations.
She is a team builder, development fundraiser, and a very experienced individual on governance matters especially as they relate to emerging African institutions, as well as a mentor to many young women seeking to balance their work and personal lives.
Janet has been instrumental over the last eleven years in making KCDF a leading and recognizable Kenyan development actor that continues to commit significant resources into a diverse range of community initiatives that cut across issues affecting vulnerable communities nationally.
These include investing in children and youth, sustainable food security and diverse livelihood efforts, women empowerment, education especially among marginalized groups, just to mention a few, all of which have a strong emphasis on sustainability.
Under her leadership, KCDF is a frontrunner in pursuing a range of sustainability strategies that will in future guarantee availability of resources to support community development efforts; these include promoting structured giving especially among Kenyans of all walks of life, encouraging family legacy funds among well-to-do individuals or those passionate about certain issues that affect needy groups, engaging companies to move to more effective corporate social investments, building an endowment for KCDF, (including helping organized communities to build small endowments), developing the KCDF House (whose rented areas will produce income to support the work of the foundation), as well as setting up an investment company whose profits (after tax) will be ploughed into supporting the work of the foundation.
Under her watch, KCDF assets have hit a billion dollars (Dec 2015).
Janet is a certified Organization Development consultant, with a Masters in Development Administration and Management (MA-Econ) from the University of Manchester (UK), and a post graduate diploma in Organization Development Consultancy from the Swiss Institute of Applied Psychology, Switzerland. She serves in non-profit Boards which include Trust Africa, a Pan African philanthropic organization, the African Philanthropy Network (she is past Chair), she chairs Viwango a CSO certification body, and is a member of the INGO Accountability Charter Board (UK), a Director of the KCDF Investment Holdings, among others. In December 2015, Janet was awarded the Exemplary Women's Leadership Award in Mauritius.