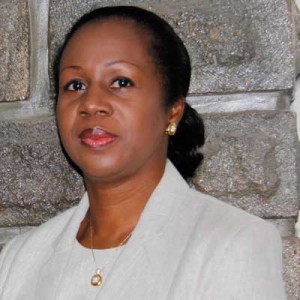 Clementine Nkweta-Salami
United Nations High Commissioner for Refugees (UNHCR)
Ms. Clementine Awu Nkweta-Salami assumed her functions as the United Nations High Commissioner for Refugees' (UNHCR) Representative in Ethiopia on 5 June 2015. Prior to her arrival Ms. Nkweta-Salami served as UNHCR's Regional Representative for Southern Africa, accredited to the Republic of South Africa, based in Pretoria, with supervisory responsibility for UNHCR's operations in Angola, Botswana, Lesotho, Malawi, Mozambique, Namibia, Swaziland, Zambia Zimbabwe and the Indian Ocean Island countries.
Ms. Nkweta-Salami's previously served as Representative for UNHCR in Burundi. Prior to that assignment she served as Assistant Representative (Protection) in Guinea, as Chief of the Inspection Section in the Inspector General's Office and as Senior Legal Advisor in the Department of International Protection at the Agency's Headquarters in Geneva. She has many years of experience working in complex humanitarian situations and on refugee issues.
Ms. Nkweta-Salami holds a Masters in Corporate and Commercial Law from the University of London, an LLB in Law from Warwick University, UK as well as a Bachelor of Sociology and Political Science from the University of Ottawa, Canada. She is a Barrister and a member of the Bar of England and Wales as well as the Cameroonian Bar. She began her professional career working as an attorney in Cameroon and has worked for UNHCR since 1993, holding various positions in Benin, Sierra Leone, Nigeria and Tanzania.
Ms. Nkweta-Salami is fluent in French and English.